Digging for gold with MailChimp's Analytics360
Data mining the MailChimp way
Now more than ever, it's essential that business owners get the biggest bang for their buck with regards to marketing efforts. Doing so requires digging in, and doing some data mining, (searching stores of data for patterns and trends, to better understand customer behavior and preferences), to determine the success or failure rate of those efforts. Web traffic is measured to see the popularity of web sites (your online "door") and individual pages or sections within a site.
Obviously, the ultimate measure of success is driving more traffic in the door. But, what if there is no door, per se? What if we're talking about driving traffic to your web site? Your web site is a critical piece of your overall marketing strategy, and, chances are, so is some sort of regular e-communication with your target audience. So, it makes sense that tracking and analyzing traffic stats, (mining that data "gold"), and how your e-communications are influencing that traffice, should be a going concern of your day to day operations. But, you may be stumped as to "where do I find these all important stats?" and, " what do I do with them once I've got 'em?".
In previous posts, I've talked about our love affair with MailChimp, and all it's feature-rich glory. And, in its quest to be your one-stop-shop for all things e-marketing related, they offer a great (and, free) tool called "Analytics 360", that allows you to pull and consolidate stats from your website traffic tools (such as Google Analytics) right into your MailChimp campaign reports page. Of course, the only prerequisite to activating Analytics360 (aside from being a MailChimp user), is making sure you have your Google Analytics account setup for your website, (easy as pie to do), and that it's setup to track conversions.
Upon clicking the Analytics360 link, MailChimp goes to work for you pulling in your website stats, and displays them on a one-stop-shop page. You can see not only how many people might have opened your message and clicked on links, you can also see site traffic, site traffic by geographical region, top referrer sites, and top content viewed on website.
Right off the bat, you can see at-a-glance data, including an activity timeline, showing you the peaks and valleys related to your web site traffic, as it pertains to the timing of campaigns and associated Twitter "tweets", including how many visits were generated by both, (represented by dots or nodes on the timeline). Analtyics360 allows you to view the timeline display based on traffic to the site generated by e-mail, referral sites, organic referrals, (i.e., coming from search engines or directories), and all traffic combined. You'll be able to determine which campaigns were successful in elevating your message and delivering more visitors ot your online "door". And, by analyzing the content of the most successful campaigns, you'll be able to pick up on trends, that will allow you to hone and target future communications.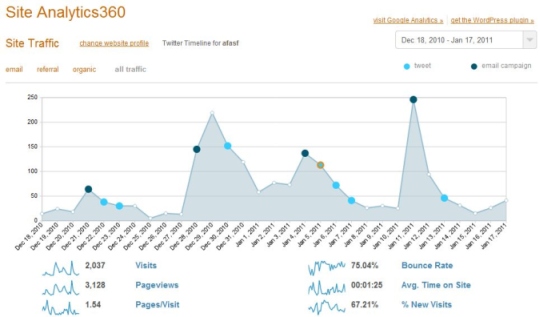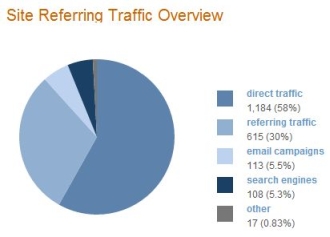 Data related to content on your website is also tracked and compiled, (including average time spent on a particular page), and gives you insight into what pages and content are a hit with your visitors, (i.e., your visitors find the content engaging, interesting, and relevant), and those pages or content that are less engaging, thus indicating an overhaul may be in order. For example, a page may have a high number of views, but a relatively low average time spent on that page. This may be a clue that, although visitors may drawn to that page initially, once they get there, the content is not relevant or compelling to them, and they move on. Conversely, a page may rank lower on the list of the most viewed, but visitors are spending a longer average time on that page. Yet another clue you need to pay attention to, as your visitors are "telling" you that they find the content relevant to their needs, and most likely would like to see more about that subject, initiative, product, whatever. Remember, your e-mail campaign may get them there, but the content needs to be up to snuff to keep them there, (and, coming back).
Other things to consider if certain pages are not garnering a higher number of views, perhaps you may need to review your site navigation, or other design issues, that may be hampering visitors' ability to access those pages and the content you want them to see.

Your website and e-marketing efforts should work hand-in-hand, telling your story and driving more people to your online "door", so they can get the rest of the story. MailChimp's Analytics360 provides you with the tools to dig for marketing gold.
Man/PC image courtesy of www.diamond-head-associates.com.