Facebook – Make Your Page More Interactive

In previous posts, we've talked about how to create a more dynamic Facebook experience through tagging, and more effective ways to share information with your friends about the organizations and causes you care about. Now, we'll address how to setup your Facebook page so that it appears more approachable, and is more interactive.
To access your page settings, click Edit Page:

First setting: Post to Wall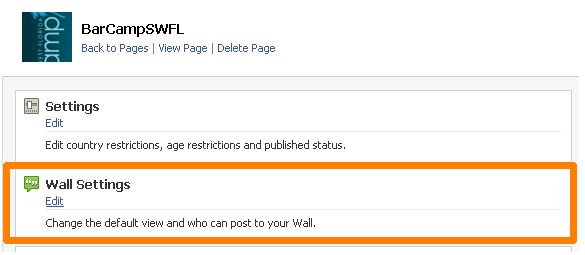 These are the most interactive and inclusive settings for a Facebook wall: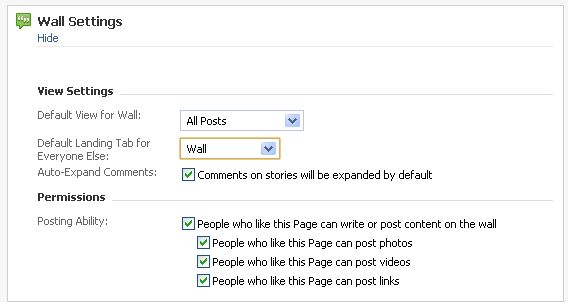 Under View Settings:
The Default View for the wall is set to All Post?:

If you use the setting Only Posts by Page?, only those users who are admins are able to post, and they won't be able to post references to your Facebook page on their personal profile. For instance, I am the admin for Naples Free-Net , a new page with about 12 people that "like" it. If I post on the Naples Free-Net wall, it will only reach 12 people. On my personal profile, I have 354 friends, roughly 50% of them are in Southwest Florida. Of course, and especially in the beginning stage, I would rather post under my own profile when I want to share something about Naples Free-Net, but I also would like the shout-out be posted on the Naples Free-Net wall.
This is the post from my personal profile, including the comment a good friend and a long time volunteer posted: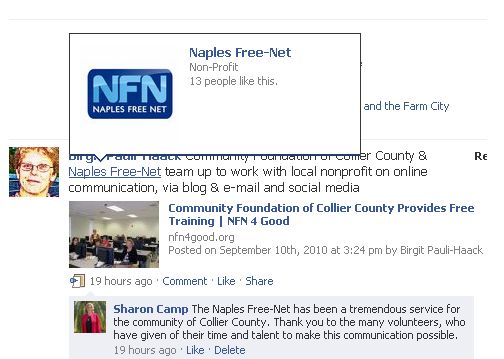 At the same time, it also appears on the Naples Free-Net page:
(Note to self: Tagging does not work in comments, only in wall posts.)

Another good example of this is the Golden Gate Civic Association (posted on my profile), with "Golden Gate Civic Association" tagged: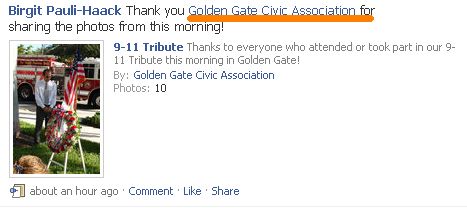 Because I am among the people who "like", my tagging shows up on the Golden Gate Civic Association Facebook page. As soon as you click on the link, you will go directly to the Golden Gate Association page, as they have their wall page set as default view, you will see other postings by the association as well as other people interested in it.