Facebook – Richer Link Sharing

A few days back, I found this short post in my news feed on Facebook. I was already familiar with PACE Center for Girls, and was interested, but I found the post sharing the good news a bit anti-climactic. What happened was that my friend used a tiny link for the sharing. And, it was minimal information. If I want to be an advocate for an organization I care about, I want to be able to do better for them. I would like for my Facebook friends to have a richer experience and, by showing more enthusiasm, I have a better chance to convince my friends to also care about causes important to me. At the very least, I would like to give more information about the organization and the link, so they can make an educated decision about this post.
So, I followed the Tiny link, and landed on the archive page of PACE Center for Girls newsletter at Constant Contact.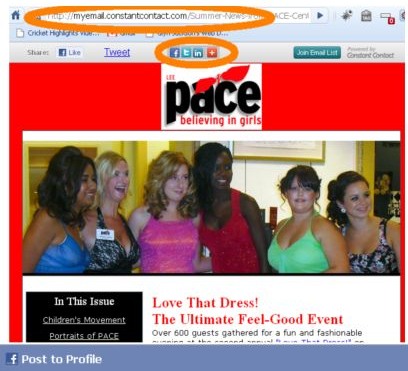 On the top of the page, I found a Facebook sharing link, which I clicked on.
Another window opened with the Facebook post section and information already filled in.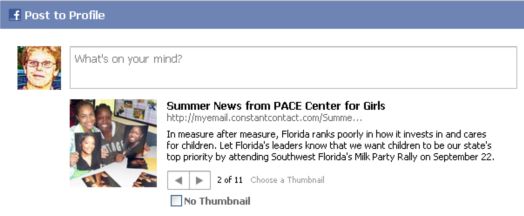 You'll notice that Facebook pulls various pieces of information from the web page:
The page title
A short description from the page
An thumbnail of an image it found on the web page
Select arrows to switch to different thumbnails of images found on the web page
Hopefully, both the page title and description provide my friends with relevant information about the page. And, that an image illustrates the post as much is it illustrates the web page.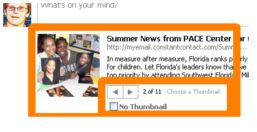 Let' take a closer look at the image section of the post: Left of it, you see a picture grabbed from the web page. We all know how a good picture or graphic can augment information or a message we would like to convey. Facebook collects all the pictures it finds on the linked web page, and makes them available to browse through. It displays the first one, and then you get previous/next picture arrows, that let you browse through the whole array.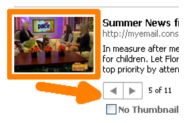 The same process happens if you don't find a Facebook share button on a particular web page, but copy and paste the URL from your browsers address bar into the link box and click onAttach?.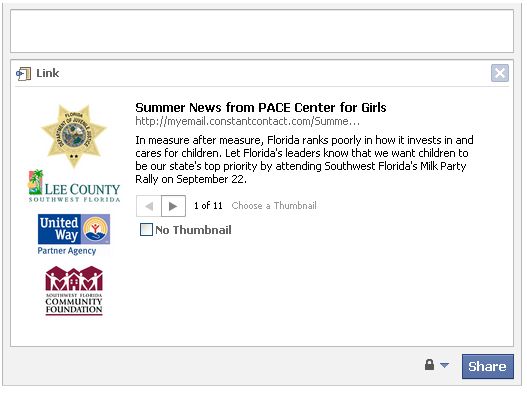 Now that we've managed the link part, we can add our opinion and write about the reasons my friends should be interested in this web page. I can add a tag to the PACE Center for Girls' Facebook page, too, and my facebook friends can stay on Facebook and find out more about the organization on their page. More ways to interact with the organization.

This a so much richer sharing experience; ultimately it serves your facebook friends as well as your favorite organization. Your facebook friends read more information on your profile, and also helps the organization you care about, by offering a richer representation on your profile.
Depending on the organization's Facebook page settings, they might allow others to post to their page and show to their community of people who liked? it. In this case, the organization has opted to not allow for others to post to their page.
Be a better advocate! Share your trips and tricks in the comments, and let us know if your have questions.