Formatting Your Content – Let's Blog!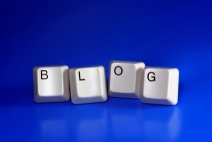 Small business owners can spend an insane amount of time creating and building website content that relates to their products or services. (As if you need to be reminded of that, right?) Yet, with all the time spent doing so, you may not be fully capitalizing on the very content you are so carefully trying to build and cultivate.
Over a few different posts, we will explore various ways you can put a fresh spin on your content, with tips for easily reformatting and presenting information to your valued customers in a variety of different ways. What's in it for me, you ask? The answer is that different formats will often appeal to new and different audiences (= new customers). In this post, we'll take a closer look at blogging, and how a blog feature can add a dynamic, interactive twist to your website content.
You, too, can blog!
Build a following by blogging about what you know best…your business and industry! Blog posts can also provide a great introduction to educational articles. Bloggers can also editorialize articles by injecting opinions or commenting about the information contained in the article, (and who doesn't want to get their opinion heard?).Â
First, let's talk about the basics — what is a blog? A blog is a type of website that is usually arranged in chronological order from the most recent˜post" (or entry) at the top of the main page, to the older posts towards the bottom. Blogs are usually written by one person, (but maybe more, such as the blog you are reading right now), and are updated on a regular basis. Blogs are usually written on a particular topic there are blogs on virtually any topic you can think of. From photography, to spirituality, to recipes, to personal diaries to hobbies " blogging has as many applications and varieties as you can imagine. Blogs put people into contact with each other to learn, share ideas, make friends with, and even do business with, people who have similar interests. So, an important feature of a blog is the ability for readers to submit comments related to the posts in the blog. Remember a blog is not a monologue but a conversation. Your readers can give you feedback on what you write, by leaving comments on each of the individual posts. Typically, there is a 'comments' link or button that will take your readers to a form where they can leave their name, e-mail and, of course, their feedback, comments, critiques, questions, etc.
Now that you know what a blog is, is it the right format for you to build content? One question to ask yourself is "what should my blog be about"? To answer that question, think about what YOU or your business are about. In other words, identify what your interests are, what your area of expertise is, what you're passionate about, and what you'd be energized to write about on a very regular basis. It will be much easier to commit to building a blog, (it takes time to get a following), if you can see yourself writing about a topic you have a deep-rooted interest in. And, your readers will be able to quickly figure out if you are interested in what you're writing about — if you're not, why should they be? And, let's not forget about the importance of educating people about the work you do. The more they know about what you do, the services you provide, etc., they will appreciate it more, and, in turn, the  more valuable it becomes to them, as well.
Of course, you'll need to determine if there is enough fresh material for you to build content around, and keep growing your blog. Will you run out of things to say? You'll want to consider if you have enough content within yourself to keep the conversation going, and where you can tap into other sources for inspiration when needed, (i.e., online news, other industry-related websites, and blog sources such as Technorati).
Once you start blogging, you'll want to avoid the dreaded "blogger burnout". Â Here are some tips to stay in the game:
1. Blog what you love: Staying motivated is a whole lot easier when you're constantly thinking about, and dealing with the topic you blog about. If you love your topic, you'll find it easier to think up content ideas, engage with readers, and establish a warm and welcoming voice that encourages rapport and develops readership.
2. Take it one step at a time: When you start a blog, it's easy to be overwhelmed by all the things you feel you should be doing to help it grow. Instead of focusing on what you haven't done yet, spend time each week assessing the things you have done, and considering ways to build on those results. If you're going to avoid burnout, you need to be kind to yourself. Otherwise, it's all too easy to tell yourself it's too hard, you don't have time, and to give up.
3. Plan, plan, plan: If you haven't already, develop a flexible, but clear plan of attack for building up your blog's content and reach. A focused plan will help you to keep your expectations of yourself in check, and to test and assess the results of what you do. This kind of periodic review will give you information that you can feed back into your efforts to make each new promotional approach more successful, and helps you avoid the must-do-everything-now, no target approach that quickly exhausts even the most motivated blogger. As you plan, you'll likely identify some easy wins " things that you expect will be fulfilling or gratifying on some level. Perhaps these are tasks that will pull in a lot of readers, or maybe you just know you'll really enjoy doing them. Try to space these jobs so that when the going gets tough, you know you have a favourite task just around the corner. This can make a big difference to your motivation over time.
4. Allow for downtime: Once you've got a plan, fit some downtime into it. Make sure you're not always operating at breakneck speed, or that if you are, it's only for a short, manageable period. Be sure to build in time out for family and friends, and to be flexible about your schedule. Above all, let yourself really enjoy that time off " don't spend it guiltily obsessing about all the things you should be doing to build your blog.
5. Realize that everyone has bad days: It's true. Some of us even have bad weeks! And months. It doesn't mean you should throw in the towel or that you don't have what it takes. Of course you have it " the thing is, you need to manage it to get the most out of it. If you have a bad day, don't beat yourself up. Accept that this is part of life.
Now that you know what a blog is, and have some tips for getting started and avoiding burnout, you'll want to select the type of blog software that's right for you. A future post will explore some different blog software options, including a list of "must have" features. Stay tuned…