Get the Word Out: E-Mail Newsletters
E-mail newsletters are hotter than ever. They're a great extension of your business' or organization's communication toolkit, and offer you, and your clients, an excellent channel by which you can reach potential and existing customers.
Â
Of course, before you create and send your e-mail newsletter, you'll need to have relevant and timely content, or news, to share with your readers. The more content and news you generate, the more readers, or subscribers, you'll be able to attract and keep. Bottomline, content and news drives subscriptions! The quality of your content also sets the tone for how much readers will respect you as a source of trusted advice. If the content has obviously been copied, scraped, or lacks substance, it's likely your readers won't view you as an authority.
Â
Making it as easy and intuitive to subscribe to your newsletter is important. After all, users are giving you permission to contact them. You wouldn't want to mess that opportunity up! Make sure the sign-up (subscription) form is in a prominent, easy to locate place. Consider putting it close to any social icons you have displayed, such as twitter or Facebook? This indicates that this is an extension of your communications with the user.
Â
Next, within the sign-up form, provide a short blurb explaining what the communication is about. This gets you and your users on the same page, so that they're clear on what to expect from your content.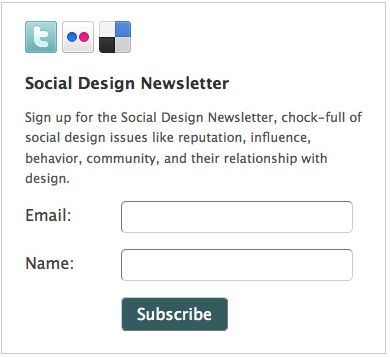 Finally, ask only for the user's email address and name, followed by a big button with a verb label: "Subscribe." Very simple, yet packed with just the right information! How frustrating is it when you attempt to sign up for an e-mail newsletter, only to be confronted with a form that asks for your address, age, phone number, mother's maiden name, favorite pet…? All we really need is their email address and, if we want to push a bit further, their name. They are giving you their attention, so at least respect them and don't ask for unnecessary data.
Â
Prior to sending any e-mail broadcasts, you will want to make sure you are acting as a 'responsible' e-mail marketer, and will need to familiarize yourself with the "CAN-SPAM Act". This is a law that sets the rules for commercial email, establishes requirements for commercial messages, gives recipients the right to have you stop emailing them, and spells out tough penalties for violations. For more information about the CAN-SPAM Act, click here.
Congratulations! Your sign-up form is up and running, and you're ready to send out some content — time to figure out what the focus of our newsletter will be. Is your goal to build a following for your website content, announce upcoming events, keep members apprised of current happenings, etc.? No matter the focus or goal, you'll want it to be as readable and scannable as possible.
Jakob Nielsen, a leading web usability consultant and 'guru', has this to say about how much time users spend reading a newsletter:
"Users spend 51 seconds reading the average newsletter. The layout and writing both need superb usability to survive in the high-pressure environment of a crowded inbox." Click here to visit Jakob's site.
Now that you've got solid content, and readers who want to subscribe to your newsletter, you'll want to take advantage of one of the numerous e-mail marketing services available, such as MailChimp, ConstantContact, JangoMail, AWeber, to name just a few. You can integrate these services into your site design via your online subscription form and setting up an RSS feed, or you can build a contact list within the service itself, and use as a standalone. The benefits of using one of these services is that they are generally low-cost and feature-rich, including access to e-mail campaign statistics, and the ability to integrate with other services, such as Eventbrite, SurveyGizmo, Salesforce, and more.