Google Plus (+): Why You should bother?
What's that you say?
Yet ANOTHER social network? But I can't keep track now, with all the Facebooking, Tweeting, Linking In; not to mention my full-time production studio for YouTube videos and podcasts…and, wait…what? A Google social network?
Whoa…we might be on to something here!
The new kid? on the social media block is, of course, Google Plus (Google+…or, GooPlus, if you prefer) and with it come the same questions asked by million of social media users the world over: will my friends follow me to the new network? How will I find new friends? How will I get noticed (Social media is, after all, all about me.?)
With social media, it's always the chicken and scrambled egg problem: I won't join a new network when my friends are not there, but my friends won't come when I am not there.'
Google+ has the same problem. Only a few die hard geeks and close friends are there! And none of my other friends will leave Facebook, because that's where their friends are.
Put all that aside because there is good news. Google+ can be beneficial even if your friends are not there yet. Hello? Google.
Among other important aspects of social interaction on the InnerTubes, Google+ can boost your visibility with the additional links back to your website. Your posts are part of the public Internet. You can build your network slowly and deliberately.
I recently was invited to answer questions about Google+ at a monthly meeting of the Entrepreneur Society of Naples (Florida). Here is a summary of what we discussed in the meeting. It was only a 15 minute talk, and the slides are available below this article.
So why bother?
Google is the fastest growing Social network right now.
Google+ has reached an estimated 50 million users within the first 90 days, a milestone that took Twitter 3 years and Facebook over 3.5 years. LinkedIn reached those user numbers only after 2354 days, about 6.5 years.
Google is ubiquitous
Google has the advantage that a lot of people use a lot of their free services around the net,
'
Gmail,
Calendar
Document
Photos
Google Analytics, and more.
"'With the overall available toolbar, as entrance into the social network, a user doesn't have to switch screens or browser tabs to look at Google+ notifications and review comments on posts.
However, some enterprise level services, like GoogleApps for Business are not yet intergrated, to the dismay of a growing number of business who feel left out, taking advantage of the new network. It's only a matter of time when companies are able to create brand accounts and use it within their GoogleApps environment, or so we hear.
Google is Search
We do Google. Right, who are we kidding?
Comscore & Highwire, market analysts, put Google market share on Search at 65%, Bing at 15% and Yahoo at 14%.
Nearly all purchasing decisions – a staggering 92% – start with an online search. There is a whole black hat industry out there doing nothing but Search Engine Optimization. And Google employs about 100 people in the Spam fighting department. Social Network add a very important component to the quality of a search.
Fig 1.Conventional Search: Keywords: Immokalee Business.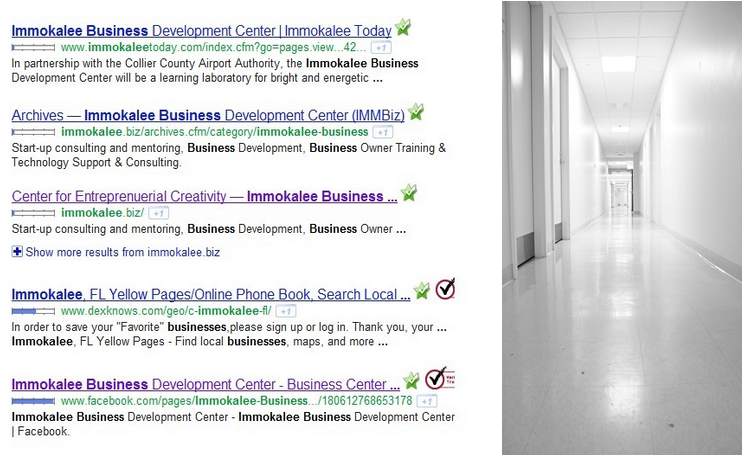 Once I am logged into my Google Account, the search results page changes for me. Now Google becomes Superman and gives me more power through increased relevance with the selection of search results. Now Avatars of my friends/followers from other social network show up next to various links, signaling that a person I know has shared a particular link. It also adds those links, that I have plussed One before, and marked it as standing out . My search resulted in a much more focused and richer collection of links.
Fig 2. Google Social Search: Keywords: Immokalee Business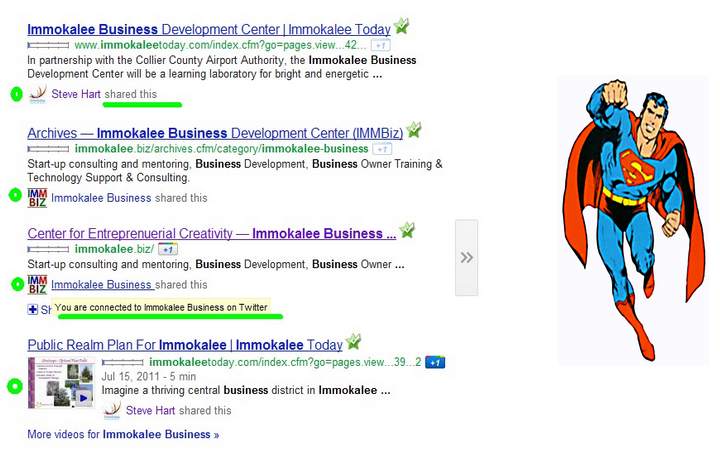 Google adds what's called social signals. It has it from Twitter, from Google+, not yet from Facebook as most sharing is done behind the Facebook login wall. And for Facebook, having access to the data is a business model so they are careful making it public. The Google crawlers are not yet going to Facebook.
ComScore calls this "Blended Search and the New Rules of Engagementâ€? and writes: …Page 1, Position 1 is no longer the gold standard for successful SEO strategies.
The syngergies between search index and social networking are very powerful. Even if you are not able to create brand profiles yet, you can still use Google+ to create additional links back to your website, but sharing publically on your profile, by using the +1 button on other business website or on your own website.
+1 is for Google, what I Like? is for Facebook. In contrast to Facebook, however the +1 for a site is another signal for the Google Search Index, and with the Internet User now being able to recommend pages but clicking +1 they also are part of a giant crowdsourcing experiment for Google. Any +1 done by an Internet user is a very, very strong human relevance signal and will benefit the particular page on your website.
Slides: Presentation Entrepreneur Society of Naples – October Meeting