MailChimp + Salesforce: Get Integrated!
E-mail marketing and contact management come together…sort of

Last week, I talked about Pauli Systems' designation as an approved MailChimp Expert, (people and companies who know about e-mail design, coding and programming), and why MailChimp has been our preferred e-mail marketing vendor for some time now. This week, I follow up with our experience, to date, with MailChimp + Salesforce integration.
Salesforce is probably the most widely used Customer Relationship Management (CRM) on the market today, and includes a package specific to non-profits, who, by completing a very simple application process, can qualify for 10 free user licences. Salesforce offers almost unlimited customization possibilities, along with superior scalability — as your organization grows, Salesforce will keep up with your evolving contact management requirements.
So, we were excited to hear when MailChimp announced last year that integration with Salesforce was available, albeit, with limited functionality. At the time, we decided to "test" the integration, using one of our non-profit clients as our "guinea pig". In this case, the client was already using MailChimp for his e-marketing needs, and had recently decided to add Salesforce to his arsenal of marketing tools, as his contact management system of choice. Perfect!

At the onset of our testing, it became obvious that the integration primarily allowed for a one-way flow of data from Salesforce to MailChimp, i.e., you can import your contacts from Salesforce into a MailChimp list, so you can send an e-mail campaign to them. (Note to self: in future releases, they'll introduce functionality to sync data both ways.?) On the MailChimp side, you are able to activate an advance tracking option that allows you to track and send basic campaign stats back to Salesforce, (track opens, clicks, etc), that are captured in the "Notes" section of the contact record. Based on our initial run-through of the functionality, we could easily select and send contact records to our MailChimp list, but the campaign tracking feature was hit or miss; a record might be generated and passed back to Salesforce, but the open and click data was not updated on a consistent basis. Also, there's no way to customize the data you would like to capture from a campaign and send to Salesforce, (let's say I included a survey in my MailChimp campaign; currently, there is no way for me to configure the data tracked, so that I can see who completed the survey and their respective responses). So, there's still quite a lot that needs to be developed before we can say there is full integration between the two applications. Baby steps! MailChimp Connector for Salesforce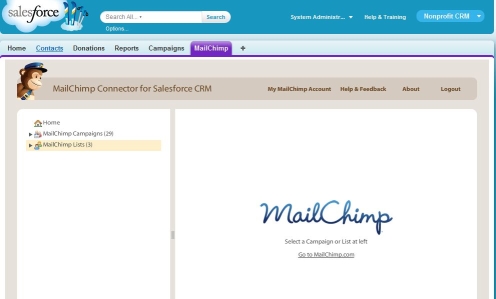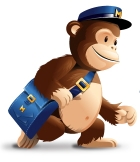 Through our designation as a MailChimp Expert, we were able to participate in an online user community, MailChimp Jungle, and in weekly webinar sessions, hosted by MailChimp, to foster interaction within their expert pool, and to ask questions and share ideas, best practices, likes/dislikes, etc. As a result of these interactions, we learned that MailChimp is ramping up its efforts to complete development of the integration with Saleforce, (due to popular demand!). We shared some of our findings, based on our experience testing earlier in the year, and were then asked if we would be interested in participating in the requirements gathering, and eventual beta testing of the beefed up functionality. We said "you bet!" At this time, I have had the opportunity to speak one-on-one with the development team leading the effort to provide a more full integration between MailChimp and Salesforce, and it was encouraging to hear that other experts are chiming in and providing similar feedack about the features their clients need, and are expecting to have at some point in the future. And, the future of MailChimp + Salesforce integration will hopefully arrive sometime in early to mid-2011. Stay tuned… Puzzle piece image courtesy of
i5starsolutions.com
.