New & Hazardous – Google Instant Preview – Are You Ready?
We can be thankful for Google, who is doing a great job keeping us on our toes! The latest curve ball is the preview feature on the search results page. As an example, we typed in "Naples Restaurants'? , and received the results page below:
First, we see that the listed sponsored links are not web pages, but Google Places entries in the heart (city center) of Naples. Next to each entry, there is a little magnifying glass; by clicking on it, the visitor is able to see a preview of the website for that particular entity.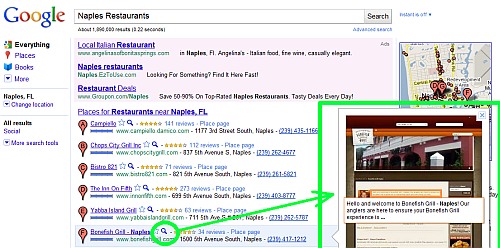 This is really great, as it gives the visitor a first look at the site, without leaving the list of search results. He or she can decide, upon first glance, if it is a site they would be interested in. It also shows the full page from the entity's website, and not just the part that would be visible on your screen, if you visited the actual website, (in other words, the preview shows that there is information "below the fold"). This is all good for potential visitors. And, as a frustrated internet user who has a hard time finding relevant information, this helps me to evaluate search results without actually going to the website. I can "triage" my options.
Check your own site!
The bad news is that now, more than ever, web design matters; since your visitor is not able to see the words in the preview, the overall look at feel is very important. So, how is the preview window processing the information on your site? The above example is one of the good views. I clicked through the other six restaurant sites, and here is what I found:
5 out of the seven websites show, mostly in the center of their site, a missing puzzle piece in some sort of grey section in the preview screen. This marks the spot where the website contains a Flash file, intended to spruce up the site and showcase mostly photos of the restaurant. The sites in question already have a hard time in the world of iPads and iPhones, which are devices that do not support Flash sites. Now, they are really in for a surprise when they check out their view on Google. However, with this first search, I am also very suprised that it is such a high number of sites. How does your site perform under this very useful new Google feature?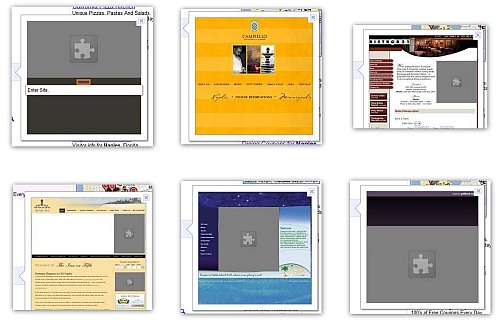 Take a look at your website through the eyes of Google, and make sure that your site looks halfway presentable in the preview window.
Google Video: Explaining Instant Previews
Â
Links Learning More: