Nothing But Writing – Distraction Free Writing Tools
We compared three web-based applications that support you in your quest to produce works for your various writing assignments. And, yes, nowadays everyone has writing assignments, from letters to clients, a seminar curriculum, a how-to blog post, or a story about your favorite non-profit. However, as soon as I sit in front of the computer, with all the windows open on my computer screen, (i.e., e-mail, browser, facebook, etc.), fighting for my attention, I get distracted. Sometimes, I just need to write and shield myself from the world. It seems I am not alone. There is, yet, another software available.
Here we start with
DarkCopy
.
You can start using it from the very first page. Very quickly, I found the full screen mode button, so everything else on my computer screen disappeared, and I only saw my green on black letters, filling the screen. It feels like channeling a time traveler who is stuck in the eighties with a monochrome screen. I wonder, to myself, if I can change the green to amber? Nope.
No fluff, no features. Just go to the site, hit the full screen button, and start writing. Click on Save as file? and your text is saved on your hard drive. If your browser is set to save downloads into a default directory for download, that's where you will find it afterwards.
No login, no registration. Easy, fast and focused. A rare, refreshing experience.


Next one up:
Writer
.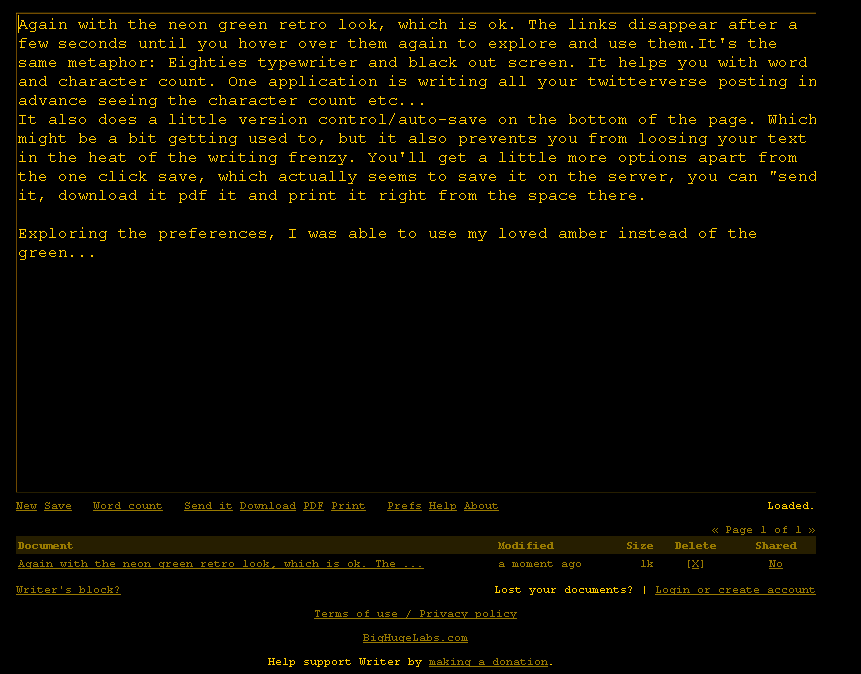 Again with the neon green on black background retro look. And, again, the question, does this come in amber? Yes. Under Preferences, you can select different font colors, select from three different line spacing settings, and select from a list of a few different font families. OK. Go crazy, and procrastinate once more, (he, he, he).
The links on the bottom of the writing box disappear after a few seconds, until you hover over to explore and use them. Writer is a little more advance for the everyday writer. It gives you word and character count. I tested it for postings to the Twitterverse, however, this revealed that character count doesn't help; it doesn't count spaces, which do count towards your 140 limit in Twitter.

It also gives you a rudimentary version control/auto-save on the bottom of the page. It prevents you from loosing your text in the heat of your writing frenzy. You'll get a little more options, apart from the one click save we saw in DarkCopy. This one actually seems to save it on the site's server and you can send it, download it, .pdf it (nicely done!), and print it right from the space there. On the bottom underneath the writing box you'll find a running list of documents you created, with information on size, modified date and shared status. Shared? No, not social-media-shared. Keeping it easy, basic, it converts the document into a public web page.


Some of the feature, of course, can only be used after you create an account, so your choices can have a more permanent existence. The link "Lost your document?", which is supposed to give me peace of mind, scared me a bit. Â Now, I need to download. The download ended up again in my default download folder on my hard drive, but only with the filename "document.txt" which makes it easy to overwrite as soon as I download another file. But, my browser is smarter, and it automatically changed the file to document(1).txt.
Creating an account, works painlessly. You don't have to give out your e-mail address, type in your username and password of choice. No fiddling with password #%@%&*I rules. Despite the basic and prehistorical look, this program is more than a mere typewriter. If you write on a project for more than one session, it makes sense to register and create an account. Depending on the cookie settings on your browser and the state of the web, you might loose your fragmented text, brilliant thoughts and collection of ideas, otherwise. This was also a pleasant experience. With just enough customization options to not be a big complicated application, it is also very focused in letting you do your work.
Last one:
MyTextfile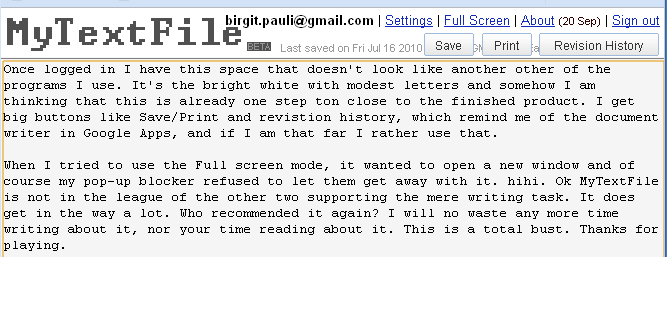 Now the last one, seems to be the odd one out. On the first screen/page of the application, I can read all about how simple it is supposed to be, and what I can and can't do. And, for attention holding purposes, there are some icons next to each bullet. Well, it's not that easy. After DarkCopy and Writer, I was spoiled, I wanted to get down to the writing matter immediately, and be able to do it. Not with this one. First, have to have a Google account in order to use it. On login, I was assured not to worry about giving my Google password to this developer, as it wouldn't be shared with the application, and only my e-mail address would be saved. Although, I knew about the Google App Engine, and that this is very well the case, but anybody else would not be so sure if she proceeded at this point. This assurance feels a little creepy. Now, that wouldn't be all that bad for a simple application, but this is way too much hassle. And, I noticed I am not able to test it while writing this review. I am already a hundred words into my thoughts about the start up before I am able to do what I came to do: just write.
Once logged in, I have this space, and, at first, I missed it the retro eighties monochrome look. In comparison to the silent dark space, where my lettere appear magically in neon color, this black on white is very bright. It comes back to the early web days, when it was considered too bright to use white background, and one considered light letteres on dark background much easier to read. I haven't thought about this for a long time. It seems it's still true, when you want to concentrate on words. It has big buttons like Save/Print and revision history, which remind me of the document writer in Google Apps, and if I am that far, I would rather use that.
When I tried to use the full screen mode, it wanted to open a new window, and, of course my pop-up blocker busted it. And, that was it. My text file is not in the league of the other two programs, DarkCopy and Writer, which support the mere writing task. It does get in the way a lot. This is a total disappointment.
Just writing this post, while reviewing the three web applications, made Writer by BigHugeLabs.com the clear winner. It gets out of the way quickly and the set of features is exceptionally well balanced. Just enough to make me feel at home, and not too much to get me all distracted with a large number of decisions to make.
It is a role model in application development: focused, direct and complete.
The web isn't the only place that houses ˜distraction free writing tools", and it's not everyone's favorite environment.
Here is a
list of desktop applications,
also free of charge.
Cross Platform:

Windows:

Mac/iPhone:

Linux:

What is your experience? If you have used any of the desktop applications, please comment below and share with our readers.