OJR: Are you wasting space on your homepage? How you can learn about your scrolldown rate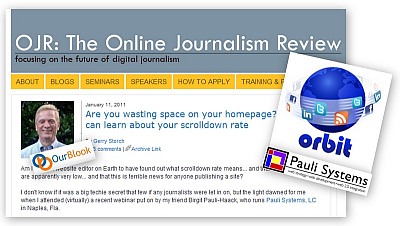 What better proof of a worthwhile information and knowledge sharing activitys, then when participants share reflections and spread it to a much larger audience.
Gerry Storch, OurBlook.com and participant of our December ORBIT* Session, wrote about his take-away from Google Analytics webinar with fellow journalists at the site "Online Journalism Review, focusing on the future of digital journalism."
Am I the last website editor on Earth to have found out what scrolldown rate means… and that scrolldown rates are apparently very low… and that this is terrible news for anyone publishing a site? I don't know if it was a big techie secret that few if any journalists were let in on, but the light dawned for me when I attended (virtually) a recent webinar put on by my friend Birgit Pauli-Haack, who runs Pauli Systems, LC in Naples, Fla. Birgit demonstrated it via Google Analytics on two attractive real-life sites. I was jolted, and appalled, to discover that one site had a scrolldown rate of 5 percent, the other 6 percent. This means that of the readers who call up the first site, only 5 percent bother to scroll down from the first screenful they see.
Gerry Storch, has several lessons for publishers, news sites and others to learn from this…. Click here to learn more
* OrBIT – Online Roundtable for Business Owners on Internet Technology