Pauli Systems is your MailChimp Expert
Is your e-mail marketing effort in need of a little TLC? Look no further than Pauli Systems, an approved "MailChimp Expert". MailChimp Experts are people and companies who know about e-mail design, coding, and programming. MailChimp has been our preferred e-mail marketing vendor for some time now, so, when they launched their Expert program earlier this year, it was a no-brainer — tell us where to sign up, and we're there! As a designated Expert, we provide consulting, custom template setup, API work, as well as manage your overall e-mail marketing program. It's important to note that the process to become an approved Expert requires that references (who are already using MailChimp), are provided at the time an organization completes the application. This way, MailChimp can verify that you know how to use their application, and will be able to successfully help others.
Why is MailChimp our e-marketing vendor of choice?
(And, before you go there, it's not because of the large check MailChimp writes us each month — because they don't.) Plainly put, MailChimp offers ease of use that is unparalleled, which is a key benefit for our clients. Whether a client is starting an e-mail marketing program from scratch or is moving from another e-marketing vendor to MailChimp, MailChimp's intuitive layout and flexibility mean they're up and running in no time flat. Also of key importance to our clients is MailChimp's ability to integrate with Customer Relationship Management systems CRMs), such as Salesforce, Highrise, and BatchBook, to name a few. And, using the MailChimp API, we can configure a registration/subscription process on a clients' website, that synchronizes with their MailChimp subscriber list. Then, within MailChimp, you have access to dashboards and reports, that let you see the performance of your individual e-mails, and allow you to drill down into open and click statistics per e-mail and per subscriber.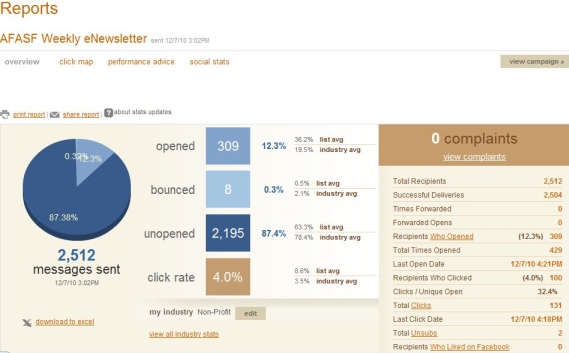 Another cool feature MailChimp offers is a module called "Analytics 360", that allows you to pull and consolidate stats from your website traffic tools (such as Google Analytics) right into your MailChimp campaign reports page. Upon clicking the Analytics360 link, MailChimp goes to work for you pulling in your website stats and displays them on a one-stop-shop page. You can see not only how many people might have opened your message and clicked on links, you can also see site traffic, site traffic by geographical region, list growth, top referrer sites, top content viewed on a website, and, if enabled, instant ROI results for every e-mail campaign you send.

You can also target you e-mails to specific groups of subscribers within your subscription list, offering you greater flexibility in managing those relationships. Keep in mind, the more focused you are able to target your communication, the higher the probability that your message will be of relevance to the recipient and actually read. In addition to individual e-mail campaigns, MailChimp also provides for configuration of RSS-driven campaigns, so you can generate automated e-newsletters directly from your website and/or blog posts. This is particularly noteworthy, since RSS-feed automation is a relatively rare specimen among e-mail marketing systems, and MailChimp's got it. More communication means more traffic to your website.