Turn Your Passion-2-Profit…experience entrepreneurial euphoria!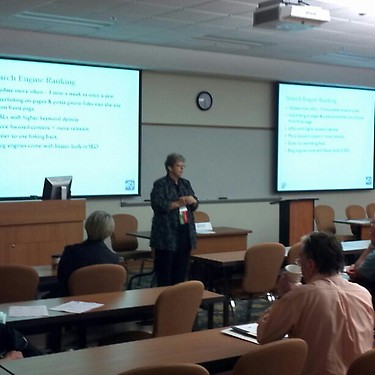 Update October 15, 2012
Today we posted the slide desk for the Online Marketing & Social Media Track from this weekend's event.
"It Starts with a Blog"
Why you should start blogging. In essence: Blogging increases Search Engine Visibility within months and gets your site ready for the Social Web, ready for the sharing economy.
"Facebook For Business"
The new Facebook timeline for business: what has changed and how you can streamline your Facebook experience. Walk through the anatomy of a Facebook page, your options for reaching out to existing and future clients through networking and posting.
"Google+ Pages & Google Analytics"
Google+ pages are so much easier to set-up and manage than Facebook pages. And, as a huge benefit, they are part of the search engine powerhouse, Google. This session will cover examples of brand pages and also wraps up the morning with a look at how measuring social media marketing performance can be measured by generating traffic for your website
---
What is it that really excites you? What it is that stirs your passion, gets you going?
Is it something you make? Something you do? Is it some service you perform for others? Some talent you have? Find out how to grow a business from avocation to vocation at the Turning Your Passion-2-Profit entrepreneurial trade show and seminar.
Set for Saturday, October 13, 9 a.m. to 2 p.m. at Florida Gulf Coast University, the conference is organized the Small Business Development Center at FGCU and Southwest Florida Business Today and will feature as keynote speaker Jerry Ross, lifelong entrepreneur and Executive Director of the National Entrepreneur Center in Orlando.
Find out more details about the workship and register here. (Scroll down the page to register.)
Relevanza is pleased and excited to, once again, be among the sponsors of this conference. Relevanza Co-founder Birgit Pauli-Haack will lead the morning session on social media and how to use to the best advantage of your young business.
Comcast Business Class is the title sponsor of the seminar. Busey Bank is the luncheon sponsor.
Other sponsors, in addition to Relevanza include Gator Press Printing; Guerilla Media; Noack Mitchell & Company; Brennan, Manna & Diamond attorneys; Edible Arrangements (Cape Coral), Marriott Courtyard at Gulf Coast Town Center; Promotional Incentives; Boost-Creative; the Bob Harden Show and Sign-A-Rama.