Turning Your Passion to Profit – A Workshop & Mini Trade Show for Entrepreneurs
Update: August 28, 2011
The 3rd Annual Event will take place again on October 1st, 2011 8:30 – 3pm at the Student Union at FGCU.
Keynote: Normal Love, Chef, President & Founder of Norman Love Confections
Presenters:
---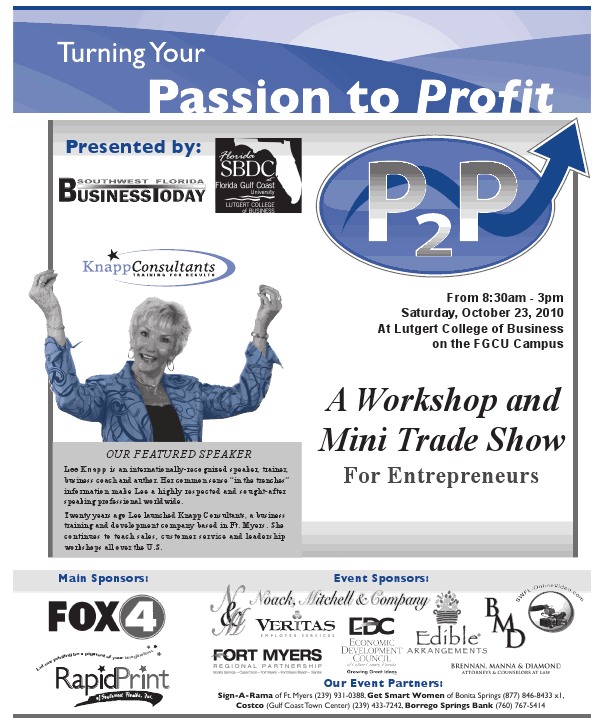 Presented by the Florida Small Business Development Center at Florida Gulf Coast University & Southwest Florida Business Today
Saturday, October 23 2010
8:30am – 3pm
At Lutgert College of Business at FGCU Campus
Click here for Full Program, List of Presenters and Registration Form (PDF)
On the afternoon Technology Panel Discussion
How Do I Know What My Web Site Is Doing For My Business?
Birgit Pauli-Haack, Owner Pauli Systems
Take a walk with Birgit through the maze of Web site analytics options as she shows you how to track the effectiveness of your Web site for little or no cost.
Utilizing Technology For The Success of Your Business
Shelly Osterhout, Founder CSA, Inc.
Shelly answers your questions on topics ranging from determining what type of computer system is best for your business needs to the changing state of technology and how to harness its power to grow your business.
Getting The Monkey Off Your Back
Charlie Ingram, FounderVeritas Employer Services
You started your business because you enjoy your business not all the administrative stuff that comes with it a lot of it legal or regulated, thereby required. Explore ways to free up your time while stillkeeping up with the paperwork? and making all those deadlines.
Using Social Media As A Tool To Build Your Business
Theresa Ayers, Owner Get Smart Women
Theresa shows you how to incorporate internet technology, creativity and innovation to maximize your company's Web presence through the use of social media.

Do You See What I SEO?
Mike Ricker, Owner Management Specialties Web Services, LLC
Mike understands what it takes to maximize yourWeb site presence through the use of Search Engine Optimization (SEO) and will answer your questions regarding ways to improve your standing on the Internet.