Website Gotcha's to Avoid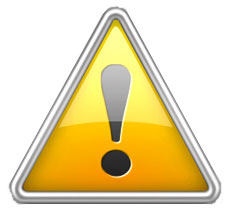 Today it takes more than just having a website to make the internet work for your company or organization. Sites are highly competitive, and optimizing site design has become an area of concern to businesses that want to use the internet to its fullest. To help navigate potential design landmines, here are some common website mistakes to take note of (and, avoid!)…
Selecting a not-so-great domain name: Pick a domain name that is memorable and relates to your business or organization. Since people are likely to forget long, non-intuitive names, shorter domain names are typically better. For example, a name like 'Mary.com' is too vague and says nothing about the content of the Mary's website. If Mary's business is pet sitting services, a better domain name would be 'MarythePetSitter.com' — there's no question as to the service Mary provides. And, make sure you use your domain name in your e-mail address, as well, (i.e., "Mary@MarythePetSitter.com"), for consistency and building "brand" recognition.
Poor design and functionality: Why have a website with great content if your customers and visitors can't easily access that content? Good design is largely based on consistency. Menus should appear in the same place on every page, links should follow a standard and all be the same color and typeface, and your logo should be clearly visible on all pages.
Too complicated or too slow: Although flash animation may look amazing, it may be too complex for casual internet users. Though 'looks' certainly matter, it must be in balance with functionality and ease of use for the typical visitor to your website. Â Also, a more complex design takes longer to load on many computers.
Stagnant site/no new content:

Not only is content time-sensitive, so is format and design. It is not cost-effective to create a website and let it sit idle. Update content regularly by incorporating a 'News' section. What is 'news'? Anything you want visitors to your site to know about your organization, its employees, volunteers, or members, that generates interest and enthusiasm for what is happening there on a daily basis. You can then take your news a step further, and integrate with one of the many e-mail marketing services available, such as

MailChimp

or

ConstantContact

, to get the message out to a broader audience, on a relular basis. The key is to make sure that news is refreshed often, so your customers and visitors have a reason to return.
Broken links: Make sure every link on your website works. You'll frustrate and lose visitors quickly if they see a "page not found" error message or find broken or incorrectly labeled links. Perhaps, consider adding a comment form to your site, so visitors can submit suggestions and let you know when they've encountered an issue on your website, such as a broken link. This let's them know you are proactive, and on top of any problems they discover.
No contact information provided: Customers need to be able to contact you with questions, complaints, and suggestions. A 'Contact Us' page, which is like a business card for your website, should be available from within any area of your site. Perhaps, also consider adding a "Comments" form, so customers and visitors can submit questions or suggestions online. Of course, be sure to actually answer these messages either personally or through an auto-reply.
Ignoring website statistics:

Detailed reports of visitor traffic are available for your website. This service may be offered by your hosting provider, or by leveraging the large search engine mashups of maps, business directories and search engine results, (mashup = a web page or application that combines data or functionality from two or more external sources to create a new service). Some of the˜players include

Google Places

,

Yahoo Local Listings

, andÂ

Bing Local Listing Center

.By monitoring your statistics (such as how many times users saw your business listing as a local search result, clicks for driving directions, clicks to your website, etc.), you can tailor your marketing and design toward those who visit most, or identify 'missed opportunities' based on who you are not attracting.
Ignoring SEO: You want to make sure your pages are designed so that your company or organization shows up high on search engine rankings, (i.e., improve the volume or quality of traffic to your web site). This process is called search engine optimization, or SEO. Keep in mind that SEO is complex. To move up in the listings on Google and other search engines, you may want to hire a professional, especially if your business relies heavily on generating business from the web.