Save the dates!
January 27th – How to setup and manage a WordPress website
February 24th – Tips on how to create an eNewsletter and measure its impact
March 31st – What are the differences between a website, blog, and Facebook page?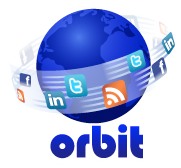 We know you have technology issues and questions. Everyone does! And, we also know that you may not have access to the people and resources who can answer those questions and resolve those issues. That's why we'd like to invite you to our monthly online business owners' roundtable, ORBIT, designed to help small businesses like yours blast their online presence into the future. Please join us!
Held the last Thursday of every month, from 3:30 pm to 4:30 pm, ORBIT provides a fun, informal and congenial online forum for business owners to openly discuss any and all web and technology-related issues specific to their small business. Bring your questions and you'll receive concrete feedback on how to make the web work better for you, and create a web presence that rocks!
PC/handshake image courtesy of www.rhythmeering.com.