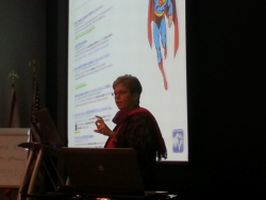 Southwest Florida's Small Business Resource Network (SBRN) is once again diving into social media training for small businesses this summer.
This program kicks off its Social Media Summer Series on Thursday, June 20, 2013 at the Holiday Inn, Fort Myers Airport @ Town Center, 9931 Interstate Commerce Drive, Fort Myers with a focus on "Google+ …oh yeah, you need to be here!"
Birgit Pauli-Haack, the owner of Pauli Systems and co-founder of Relevanza, will present tips for using Google+ in small business. The amazing opportunities of social media have yet to capture the attention of some business owners and as a result, social media has yet to become part of a strategic plan to reach consumers, constituents and the public at large. For many small businesses – and larger businesses alike – the world of social media can still be a scary place. Birgit will show you how Google+ will ease your fears and how you can easily use it to spark conversation about your business and discover the synergies between being social and being discovered on internet searches.
Cost for SBRN members is $15 per person, which includes hors d'oeuvres. Guests and unaffiliated small business owners pay $25 per person. This meeting is sponsored by GreatFlorida Insurance.
Register online or contact Lorna Kibbey, coordinator at the Small Business Development Center at (239) 745-3700.
Come on Thursday, June 20, 2013 and learn why you should embrace Google+.