Curtain Call: Joy Davidson Presents Unveiled – WordPress + Facebook Page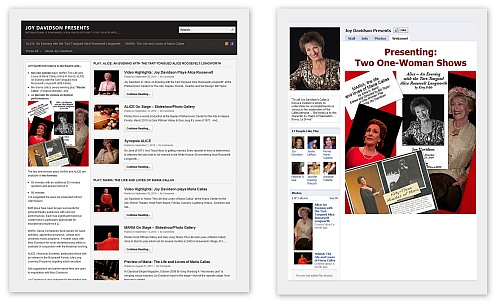 We had the great pleasure this week to Go-live with Joy Davidson's web site www.joydavidsonpresents.com to promote two One-Woman Shows. The site was created with WordPress and provides distinct section for each play as well as an extensive press kit area. Photo Galleries, Slideshows and Videos allow for a complete virtual experience on the site. With the content production we also established a Facebook Page with Welcome page and big photo collage. As Joy Davidson will continue to work on content we provided guidance and training as well as documentation.
Joy Davidson wrote:
Very happy to announce today the official publication of www.joydavidsonpresents.com, an effort of Gary Jung, Jeremy Davidson and Birgit Pauli-Haack who is a genius and took Gary's early work with added technical coop from Jeremy and video editing from Jennifer in her office and these are the results. She has put up a facebook page, also Joy Davidson Presents. Hope you'll "like" and become a "friend"!