Facebook – Share with Tagging

Some of us are happy to share links, videos, information, and quotes with our friends on Facebook, and some of us are also active in various online communities that have Facebook pages. More frequently, I find myself in the situation that I am sharing connected information over more than one page, and with my own personal friends. And, you might have seen that other people tag friends in photos. You can do that also in posts.
To do some cross-posting, I am using Facebook "tagging", which creates an informational posting, and links it to other organizations' pages. For a while now, Facebook lets you tag people in posts, as well. As an example, below, I am tagging my friend Mary Rack, with whom I share a great passion for technology:

How do you tag people?
First, make sure you are actually friends with the person. The, start writing your post. When you are the spot where you would like to add the link, type an @? and immediately start typing part of the name of your friend. Facebook will suggest as you add characters to the string and give you a list of four suggestions, matching your typed string.
List for @Ma: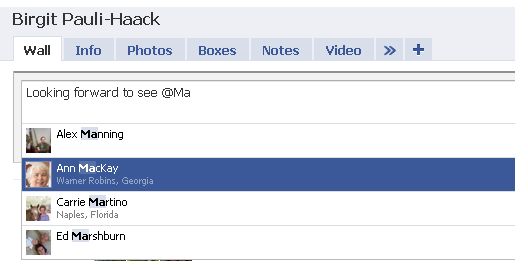 List for @Mar: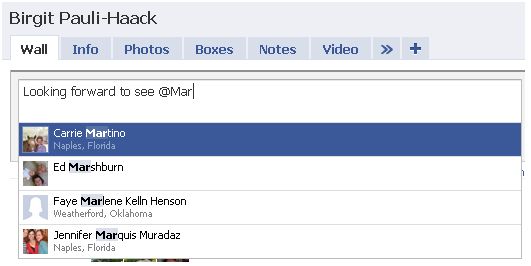 List for @Mary: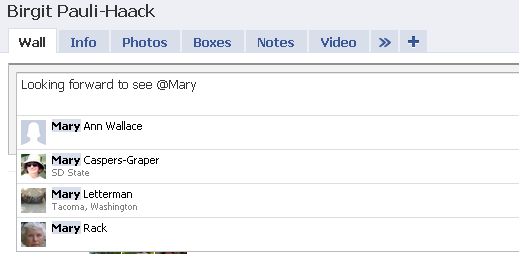 The list changed as I progressed typing. At first I was a little confused, until I noticed that Facebook doesn't make more than four suggestions at a time. When I got to the full first name, the choices became much more relevant; I really didn't have to type the full name, I just selected the correct one:

And was back in the post box. After I selected the right entry, the system replaced the @Mary with the full name and a link to my friend's profile page:

I was able to continue with my post. Once I hit the Share? button, the post was visible on my wall and when people hover over the link with their mouse, they will see a little pop-up box with some information.

As a second consequence, the post also shows up on the tagged person's wall, too. Through "tagging", you can cross-post, and you can make connections and form your network of information and friends.

When does tagging not work?
The tagged person is not your friend
The tagged person's privacy settings are set so that other people can not tag him/her
In your comment on posts

The post is sent through 3rd party connections, like Twitter, Hootsuite, Seesmic or Foursquare, to name just a few

Your own privacy settings do not allow for sharing with others

Conclusion: To rise above the noise and to make your post and sharings on Facebook more inclusive, use tagging for a more richer connection. You spin your own web among your friends and introduce your friends to each other by sharing common interest.
'